Skrill (which used to be named Moneybookers) is an e-money/e-wallet service. It can be used to pay merchants as well as for transfers between individual's Skrill accounts.
The Skrill Prepaid MasterCard is an easy and cost effective method for using your Skrill funds online and offline, but other withdrawal options are also available.
Skrill is owned by Skrill Limited, a company based in the United Kingdom.

Using Skrill
Depositing money into your Skrill account
Examples of deposit methods accepted by Skrill are online bank transfer, Paysafecard, Visa, MasterCard, American Express, Diners Club, and JCB. Exactly which ones that are open to you will depend on geography. When you are logged in to Skrill, you can view a list of the options available in your region.
The cost for depositing money into your Skrill account will depend on which method you use. Depositing money from your online bank account is usually free of charge. Most credit / debit cards will cost less than 2% per transaction, while Paysafecard is more expensive at 5.5%.
Of course, gaining access to any of these methods might require a fee. For example, in order to make a bank transfer from your online bank you need to have an online bank account in the first place, and that might come with an annual fee.
Paying with Skrill
Sending money with Skrill costs 1% of the transaction, but never more than €10. The person who recieves the transfer do not pay any fee.
If you get the Skrill Prepaid MasterCard you can pay merchants online for free, and the same goes for payments in most shops and restaurants. The Skrill Prepaid MasterCard will also allow you to do bank transfer top-ups for free.
Withdrawing money from your Skrill account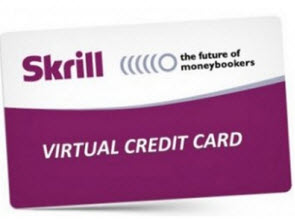 Just as with deposits, the methods available for withdrawals will depend on geography and you can find a list of your options when you are logged into your Skrill account. The fee associated with a withdrawal vary from method to method. Using Visa or doing a bank transfer will cost €2.95.
As mentioned above, you can get a Skrill Prepaid MasterCard and use it to pay for things with online and offline. Cash withdrawals in ATMs are possible but cost €1,80 per withdrawal. The annual card fee for the Skrill Prepaid MasterCard is €10.
Other information about Skrill
Moneybookers Limited was incorporated in the United Kingdom in 2001 and the Moneybookers site was launched in 2002.
During 2011 – 2013 Moneybookers went through a rebranding process where they changed their name to Skrill.
Skrill Limited is a UK-based company registered as a Money Service Business with Her Majesty's Revenue and Customs. The company is regulated by the Financial Conduct Authority (FCA) of the United Kingdom. The FCA requirements stipulates that the company must keep customer funds in separate trust accounts and not mingle them with company funds.
Skrill Group acquired Ukash in April 2015.
At the time of writing (July 2015), Skrill Group is about to be acquired by Optimal Payments (the parent company of Neteller). The deal is to be finalized in the third quarter of 2015.
Skrill does not offer any credit.
Skrill allows for sending and receiving payments in over 40 currencies. Your account currency is fixed once you have made your first transaction.
Having a Skrill VIP account gives you various benefits, such as multi-currency account, security token and access to a rewards scheme.