Debt settlement is a process whereby you negotiate with your creditors to reduce the amount you need to pay. It can be a good way to get to grip with an impossible situation where the debt has risen to un-payable levels. You should never enter into debt settlement lightly. Debt settlement is a serious matter that will have long term effects on your credit score. It will take a long time too rebuild your credit score after a debt settlement. Always consult a Credit Counseling Professionals to find out if debt settlement is a good option for you in your situation.

A debt settlement plan is a good option to debt settlement that does not have a negative affect on your credit score. If you want to develop a debt settlement plan you will need to contact your creditors as soon as possible. It is hard to be able to negotiate a debt settlement plan if you wait to long to contact your creditor. The earlier you contact your creditors the higher is your chance of negotiation a settlement plan. It is very important to never wait six months or more before you contact them. After 6 months most companies consider the debt "charged-off account" and once this happened it becomes harder to negotiate a settlement plan or to a reduce debt. Most creditors appreciate that you take charge and is pro-active to resolve your situation.
It is important that you consider the tax effect when you are considering whether debt settlement is the right choice for you. Any debt that your creditors forgive is taxable. All debts above USD 600 that is forgiven is subjected to taxation. This means that the affect of the debt settlement can be smaller than you expect. It is also important to remember that if you are unable to pay the tax that is triggered by the debt settlement you might end up in a worse situation than you started in. Regular delinquent bills stay on your record for 7 years. Delinquent tax bills stay on your record for 10 years and therefore have a negative effect on your credit record for a longer time period than your old debts might.
You will only be able to get a debt settlement if you are in genuine financial hardship. Your creditors are going to ask you for a lot of documentation including your income, all your debt and all your assets before they grant you forgiveness for any part of your loan. This is due to the fact that they want to prevent people from seeking debt settlement simply to save money even though they don't need it. This can include people who don't want to sell assets to pay for their debts.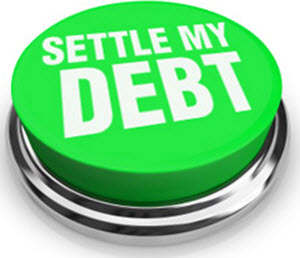 If the creditor is willing to negotiate a debt settlement or a payment plan it is very important that you enter into the negotiations with open eyes. Do not promise anything you can not keep. Do not promise to pay a higher monthly payment than you will be able to pay. It is very important that you stick to the plan you negotiate with creditors. The accord you reach is often voided if you fail to met your obligation. It is very common that the creditor sends the matter directly to a collection agency if you fail to met your obligation. Once you have met your obligation such as negotiated with your creditor the commitment should be removed from your credit report. It is however relatively common that the creditor fails to remove it and it is therefor important that you make sure that the debt get removed from your record and that you contact the creditor if they do not do this.
If you have a lot of unsecured debt you should also consider the option of filling for bankruptcy to get out from under your debt. A bankruptcy will affect your credit record for 7 or 10 years. But if you already have delinquent payments your credit record might already be affected for a similar period of time. If your credit record already is very poor you might be in a situation where you have very little to loose from entering into Chapter 13 bankruptcy (seven years) or a Chapter 7 bankruptcy (ten years).
If you decide that debt settlement is the right option for you than you will have to decide whether or not the hire a debt management company to negotiate for you or whether you want to negotiate yourself. Both methods have their benefits and drawbacks.
Do it yourself:
Hire a Company:

Benefits:
You can control the process and chose which offers to accept.
You avoid paying fees to handlers and lawyers.
You can negotiate while your credit score is still in decent shape.

Benefits:
The company can negotiate several clients at the same time with a higher total value. This allows the to get a better deal.
The companies have pre-existing relationships with the creditors

Drawbacks:
Some creditors do not negotiate with individuals.
It can be hard to get equally good offers as the professional negotiator can.
It can be emotionally draining to do yourself.
It can be hard to know the policy different companies uses and how hard to push.
You might have to hire a lawyer if the creditor get aggressive and initiate legal procedures.
Can take a lot of time
Requires you to be a decent negotiator.

Drawbacks:
The fees can be rather high and reduce the effectiveness of the debt settlement.
The company often want you to destroy your credit score completely to create a better negotiating position.
The drop out rate from plans negotiated by a company is higher than if you negotiate yourself
The company does not know you as well as you do.
In the end is up to you to decide which of the two option is a better option for you.