If you wish to make transactions online, a digital wallet can come in handy. A lot of people are reluctant to hand out their credit card information online, and for good reasons. A digital wallet can be filled using various methods. You can of course use a credit card or debit card (you only have to trust the digital wallet company, not every online site that you wish to make payments to) but there are also other deposit methods available for those who wish to keep their card information to themselves. You can for instance go to a convenience store or gas station and purchase a Paysafecard and use this card to deposit money into your digital wallet. Or, you can use your online bank to make a transfer from your bank account to your digital wallet. Before you sign up with a digital wallet, make sure it accepts deposits through a method that you feel comfortable using and that is available in your geographical area.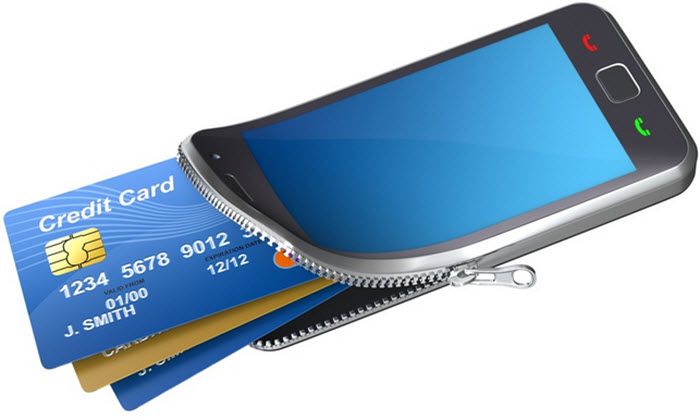 Some digital wallets will only allow you to spend your money, e.g. by making payments to e-merchants or depositing money into gambling accounts. Other digital wallets will allow you to transfer money back to your bank account, credit card account or similar. There are even digital wallets that have solutions that make it possible for you to withdraw your money from an ATM. When choosing between digital wallets, it is of course important to pick one that fit your needs.
Mobile digital wallets
More and more people are accessing the internet on their smartphones or tablets rather than using a stationary computer. Naturally, a lot of digital wallets have adapted to this by launching various mobile apps or by making their sites mobile friendly. If you wish to be able to use your digital wallet on your mobile, make sure you pick a digital wallet provider that is mobile-friendly.
Some mobile phones can use near field communication (NFC) to communicate wirelessly with an offline merchants transaction terminal. This makes it possible for you to use your digital wallet to pay for goods and services offline by simply holding your mobile device close to the transaction terminal.
Examples of digital wallets
Apple Pay
Apple Pay is a mobile payment and digital wallet developed by Apple and launched in 2014. It will work with most fairly modern Apple devices such as iPhone 6 and later, iPad Air 2 and later and iPad Mini 3 and later. Users with iPhone 5, 5C, 5S, 6 or 6 Plus can use the Apple Pay through an Apple Watch, but the watch does not provide Touch ID security.
The Apple Pay system does not require Apple-specific contactless payment terminals. It is compatible with MasterCard's PayPass, Visa's PayWave and American Express's Express Pay. Payments can also be maid in iOS apps using Apple Pay.
The owner of a mobile device can remotely block the Apple Pay service, a feature that comes in handy when a mobile device is lost or stolen.
When Apple Pay was launched in 2014, over two-hundred thousand vendors in the United States were ready to accept Apple Pay payments, including major chains such as Target, Walgreens, Bloomingdales, Macy's, Subway, Panera Bread, McDonald's and Whole Foods.
Google Wallet
Google Wallet is a mobile payment and digital wallet developed by Google and launched in 2011. At the time of writing, it does not work with mobile devices purchased outside the USA. It is compatible with Android devices and iPhones (but Tap To Pay does not work on iPhones). Examples of mobile devices on which you can use Google Wallet are (reasonably modern) HTC devices, LG devices, Motorola devices and Samsung devices – provided that they are purchased in the USA.
Google Wallet allows the user to store credit card information, debit card information, loyalty card information, gift card information, and more. The Google Wallet can use near field communication (NFC) to carry out a wireless payment offline if the user places the mobile device near the merchant's contactless payment terminal. Google Wallet Works with both Visa's PayWave and MasterCard's PayPass.
In 2013, Google integrated the Google Wallet in Gmail for users in the USA, making it possible for them to send money through email attachments.
At the time of writing, AT&T Mobility, T-Mobile US and Verizon Wireless is planning to bundle the Google Wallet app on their mobile devices.
Dashlane
Dashlane is a digital wallet and password manager available for PC, Mac, Android and iOS. Dashlane makes it possible to sync your data between devices, even if they run on different operative systems. The digital wallet can aggregate credit cards, bank accounts, mobile ID's and more. Dashlane uses AES-256 encryption and two-factor authentication.