he American Express Company (Amex) is a United States-based financial service corporation that offers American Express-branded credit cards, charge cards, debit cards and prepaid cards. It is also the world's largest provider of traveler's checks.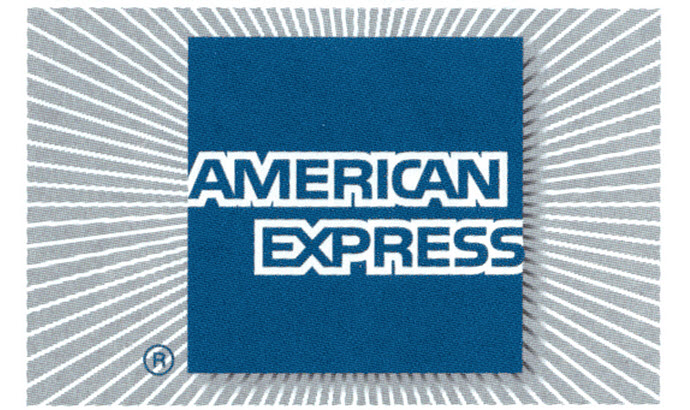 American Express is only the 4th largest card issuer in the world based on the number of cards in circulation, but it is the largest card issuer in the world based on purchase volume.
The company has its own proprietary transaction network, that not only serves Amex products but also cards issued by Global Service Network partners such as Lloyds Bank and Barclays Bank.
The American Express Company is a publicly company traded as AXP on the New York Stock Exchange. The company is headquarter in Three World Financial Center in New York City, USA.
Until 2004, Visa and MasterCard rules prohibited their issuers in the United States from issuing American Express cards. After antitrust litigation by the U.S. Department of Justice, these rules are no longer in effect. Examples of financial institutions in the U.S. that are now issuing American Express cards as a result of this are Bank of America, Citibank, HSBC Bank USA and United Services Automobile Association (USAA).
Generally speaking, American Express card are accepted by fewer merchants than Visa cards and MasterCard cards. This is especially true outside the United States.
Charge cards
American Express released their first charge card in the 1950's and now has a large selection of charge cards. The American Express Gold Card premiered in 1966, followed by the American Express Platinum Card in 1984 and the Centurion Card in 1999.
While credit cards are revolving credit instruments that do not need to be paid in full every month, while the holder of a charge card is obligated to repay the debt to the card issuer in full by the due date (typically on a monthly basis). Unlike credit cards, charge cards are usually issued without spending limits or with very lofty spending limits.
It should be noted that some American Express charge cards nowadays allow extended payment options on qualifying charges based on credit availability.
The annual fee for an American Express charge card varies from zero to over two thousand dollars.
Centurion Card (Black Card)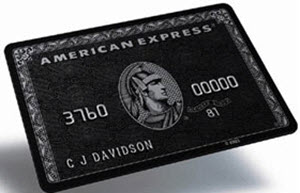 The American Express Centurion Card, often referred to as the black card, is intended for American Express's elite customer segment. Initially, this card was only offered to select holder of the American Express Platinum Card.
At the time of writing, the annual fee for the Centurion Card is $2,500 and there is also a $7,500 (one-time) sing-up fee.
There are two types of Centurion Card: Person Centurion Card and Business Centurion Card.
Credit cards
With an American Express credit card, you get a bill once a month but you are not obliged to pay it in full every month as you would with an American Express charge card.
Examples of American Express credit cards are Blue, Clear and One. Blue, which as no annual fee, was originally intended as a card for young adults in the U.S. It has a rewards program and a multi-functional onboard smart chip. Blue Cash is a cashback reward version of the original Blue. Clear is a credit card without fees, launched in 2005. One is a credit card with a "savings accelerator plan". This plan contributes 1% of eligible purchases into a high-yield savings account insured by the Federal Deposit Insurance Corporation.
American Express offers a lot of co-branded credit cards, e.g. the British Airways credit card, the Best Western credit card, the Harrods credit card, and so on. Most of the co-branded cards are co-branded with airline brands, hotel brands or retailer brands.
Bluebird (prepaid debit card)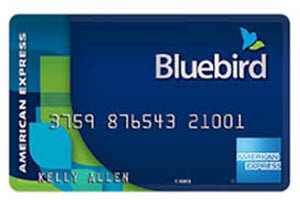 In 2012, American Express and Walmart launched the Bluebird prepaid debit card. Unlike most other prepaid debit cards, Bluebird accounts are insured by the Federal Deposit Insurance Corporation. Bluebird has check writing capabilities, and a holder can elect to have government payments, such as social security checks and military pay, deposited directly into the holder's Bluebird account. Despite having low fees, Bluebird comes with some of the benefits of more traditional American Express cards, e.g. roadside assistance and identity theft protection.
ExpressPay (a payment system based on RFID)
ExpressPay is a contactless payment system based in wireless RFID. It was launched by American Express in 2005, and is similar to Visa's PayWave and MasterCards Contactless (PayPass).
With ExpressPay, there is no need to swipe a card or insert it into a chip reader. Simply holding the card near an ExpressPay receiver is enough. No PIN is entered.
Mobile wallet for iPhone
A new mobile wallet feature is incorporated into Apple's new iPhone models that makes it easier for the holder to use their American Express card as well as other credit cards.
Cards for businesses
American Express is the largest provider of corporate cards in the United States, and they also have special programs to help small and mid-sized businesses manage their expenses.
The American Express Corporate Card is offered in over 40 countries worldwide. A long row of complementary products are available, such as the Business Travel Account and the Corporate Purchasing Card.
The American Express Plum Card is a charge card issued by American Express' OPEN small business division. The Plum Card can give you a 1.5% early pay discount if you pay within ten days of the statement closing date, provided that at least $5 000 was spent during the billing period. There is also a defer payment option that allows you to pay 10% of the new balance by the first please-pay-by date and revolve the remaining balance until the next please-pay-by date.
Background
In 1850, in Buffalo, New York State, businessmen Henry Wells, William G. Fargo and John Warren Butterfield merged their respective express shipping companies (Wells & Company, Livingston, Fargo & Company and Wells, Butterfield & Company) to form a joint stock corporation named American Express.
American Express had its first headquarter at the intersection of Jay Street and Hudson Street on Manhattan, in an area nowadays known as Tribeca. Hudson Street was an ideal location due to the Hudson River Railroad. The American Express horses lived in stables on Vesey Street and then later on Hubert Street.
The newly formed American Express company quickly established a near-monopoly on express shipments in New York State, including express shipments of goods, currency and securities. (In 1852, Wells and Fargo was down-voted by the other directors when they suggested that American Express should start offering express shipping in California as well. As a consequence, Wells and Fargo founded the Wells Fargo & Co.)
In 1882, American Express launched a money order business – their first foray into the area of financial services. They were now competing the with money orders service carried out by the United States Post Office.
In 1891, the American Express Traveler's Cheque was launched, after J.C. Fargo had been annoyed by the difficulty in obtaining cash (from this bank letters of credit) outside the main cities during a trip to Europe.
By 1903, the American Express company had assets worth roughly $28 millions, making them the second largest financial institution in New York City – only the National City Bank of New York had assets worth more than this.
In 1917/1918 American Express lost their express shipment business, when the U.S. government nullified all contracts between express shipment companies and railroads and formed The Railway Express Agency, an agency which was given a national monopoly on small package and parcel transportation using railroads. The Railway Express Agency took custody of all express shipment equipment belonging to private express companies within the United States.
The cards
On October 1, 1958 American Express launched 250,000 charge cards. The annual fee was $6, which was $1 more than its main competitor – the Diner Club charge card. The first cards were paper cards, but by 1959 American Express was sending out embossed plastic cards.
The American Express launched their Gold Card in 1966 and their Platinum Card in 1984. In 1987, the Optima card premiered, American Express's first credit card. In 1994, it was followed by the Optima True Grace, a credit card that offered a grace period on all purchaseswhether a balance was carried on the card or not.
Today, Optima cards are still in use, but no more cards are issued. The market niche once filled by Optima is instead the territory of American Express Blue.
Investment banking
American Express created an investment banking arm in the 1980's. They made several notable acquisitions, including the purchase of Shearson Loeb Rhoades, Lehman Brothers Kuhn Loeb, Investors Diversified Services, and E.F. Hutton & Co.
In 1993, American Express wished to leave the investment banking business and sold off most of to Primerica. In the following year, American Express spun off its remaining investment banking and institutional business in an initial public offering as Lehman Brothers Holdings Inc.
TARP
During the financial crisis of 2008, the American Express Company converted to bank holding company, making it eligible for government help under the Troubled Asset Relief Program (TARP). In July 2009, the company ended their obligations under TARP by buying back $340 million in Treasury warrants.